Retractable Self-Stowing Greenhouse: U.S. Patent # 5,802,762
NOTE: This inventor has another product that's also available for licensing.
Click on the link to see it.
A Retractable Self-Stowing Greenhouse of modular construction can enclose an area or retract from an area of any size and stow itself within minutes.
The modular design allows construction of greenhouses, covering unlimited areas, by adding the number of modules as required. Being modular, each module can be extended or retracted independently of each other, or all in unison. Augmented heat can be used in unusual conditions.
Click here to see a larger picture.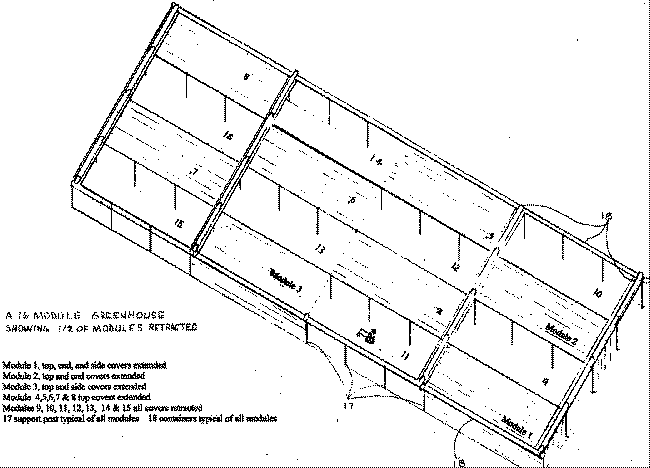 Each module consists of at least the following items:
(1) Support posts
(2) A weather-proof container
(3) A level wind spool
(4) An electric motor
(5) A cover sheet of weather proof flexible material
(6) A platform
(7) Support cables
(8) Electrical controls
(9) An insecticide and fungicide distribution system.
A weather-proof container placed on a platform atop the support posts is high enough to allow a farmer to use any farm machinery, with only the support post as obstacles, when the greenhouse is enclosed or retracted. Taller posts may be used to cover any agricultural crop, including fruit trees. Attached to and within each container is housed a level wind spool, cover sheet, electric motor, electric controls, part of the support cables, insecticide and fungicide distribution system.
As the cover sheets are retracted, insecticide and fungicide are dispensed on the cover sheet to prevent insect infestation, mold and mildew. When stowed, the cover sheets are always ready to be extended, enclosing the area again when frost or other dangers to plants arise.
Modules on the outer perimeter have side, top and end cover sheets where applicable, while inner modules will have only top cover sheets. Where only one module is used, side, end and top cover sheets are utilized.
The Retractable Self-Stowing Greenhouse can convert desert land to farm land by retarding moisture evaporation. Using a reflective cover sheet, alternate modules can be extended to reflect heat from the sun without denying the sun's energy to any of the plants.
The Retractable Self-Stowing Greenhouse could amplify the agriculture business by allowing earlier planting and later harvests. In the world's areas between approximately 25 and 35 degrees of latitude, both north and south of the equator, where freezing temperatures are occasional, it is possible to get in an additional harvest of some crops within the same season.
The Retractable Self-Stowing Greenhouse is available for licensing or venture partnership.
Inventor: Bob Stonecypher, 1383 Fahlander Drive South, Columbus, OH 43229
Phone: (614) 888-0805
FAX: (614) 840-9126
E-mail: [email protected]

since October 23, 2000
ATTN. INVENTORS: The inventor has published an informative booklet for other inventors. It's called, ""The Idea" and is a 67-page invention booklet written FOR inventors BY an inventor. This is the "How to protect, patent, trademark, copyright, finance, market, sell or manufacture your own invention or idea" book! It's ideal for beginners -- for details, please go to: www.InventionBook.com
---
Back to the MarketLaunchers.com home page