Table Top Game: U.S. Patent # 5,564,697 with 20 claims
NOTE: This inventor has another product that's also available for licensing. Click on the link to see it.
The play surface is reversible: One side is smooth and low-frictional for disk games ...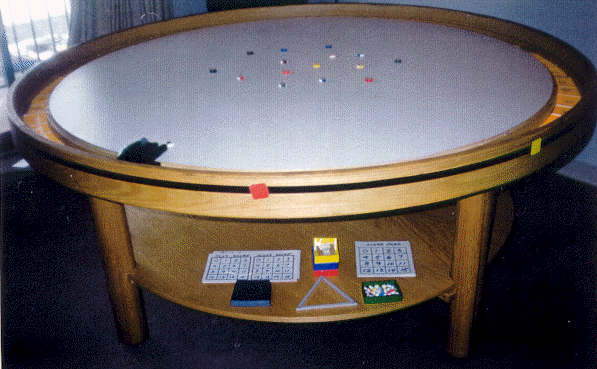 while the other side has a felt textured surface for marble play:
Description of the Table Top Game:
Its play surface is about 31 inches high. The outside diameter is 6' 6" with a play surface 5' 8" in diameter; surrounded by a trough and confinement wall to receive and contain ejected game pieces.
The disks used to hit the target disks are referred to as shooter disks. The shooter disks generally used in game play are either a plain shooter disk (no markings) or an arrow-embossed shooter disk. The arrow may be singularly directed, dual directed or possibly 4-way directed; the shooter disk selection in a game is a discretionary option.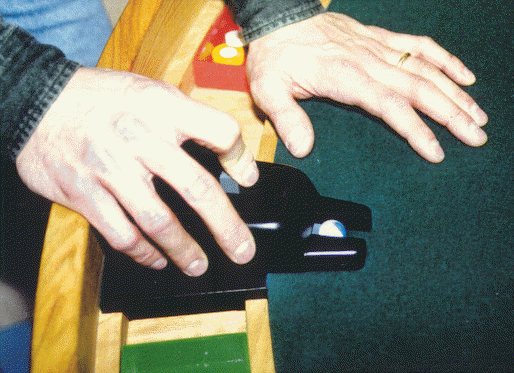 The disk game pieces (called target disks) are 1" in diameter, ¼" thick in identifying colors and decor and numbered 1 through 15:
The Table Top Game's trouble-free assembly allows for convenient in-home access ...
and its easily-disassembled upper circular part is hinged and foldable in half ...
with the legs folding compactly together scissors-style:
The shooting unit is a variably-controlled, spring-activated mechanism which is pivotally mounted on a base seated on the trough:
It has an arc range that covers most of the play area from any given location and is freely moveable around the play surface:
Other accessories and features include: regular score cards, plus and minus score cards, player's shooting location magnetic markers, a steel band girding the exterior of the game table to retain the markers, partitioned segments with numeral values that encircle the play area, marbles, hand rests for manually shooting marbles, with a freely moveable play area.
This tabletop game is a safe yet challenging and engrossing multi-player, action-type game. It is easily adapted to accommodate the play of many different games using related pieces.
The prototype works perfectly and is available to be seen and demonstrated to potential licensees. The inventor is interested in negotiating with any reputable manufacturing firm, although a licensing agreement is preferred. Outright purchase of the game is also negotiable.
Inventor: Tom Catrinar, 7000 East 10 Mile Road; Apt. 610, Center Line, MI 48015
Phone: (810) 754-7903
since November 17, 2000
---
Back to the MarketLaunchers.com home page