Folding Chair with Self-Storable Tray: U.S. Patent # 5,765,909
NOTE: This inventor has another product that's also available for licensing. Click on the link to see it.
Folding Chair with Self-Storable Tray:
The Folding Chair with Self-Storable Tray is versatile, removable and reversible. It serves as a chair and television tray combination, and a child's portable highchair.
It is composed of two components: A chair and a tray. The chair is a regular chair, with the addition of a sheath. The tray includes a pair of joined arms, each composed of a first arm segment, a second arm segment and a pivot. The first and second arm segments slide into the sheath.
A tray slides to connect with the second arm segments. Located within each of the second arm segments is a support rod which is engaged with the chair seat. The user pulls the tray component so that it raises up from behind the chair back, where the joined arms slide outward with respect to the sheath until the pivots are exposed. The user then pivots the second arm segments in relation to the first arm segments so that the tray is located at the front of the chair while the support rods fall and are engaged to the chair seat to provide support for the tray. The user may slide the tray off the second arm segments to get on the chair and then slide the tray back on.
The tray is totally integrated into the structure of the chair; it is easily and unobtrusively stored when not in use and, when needed, is easily and conveniently extended into a usable and stable position.
When in use, the tray is both removable and reversible (it has a smooth side for writing or reading, and a manageable food tray on the reverse side).
This diagram shows the chair in motion: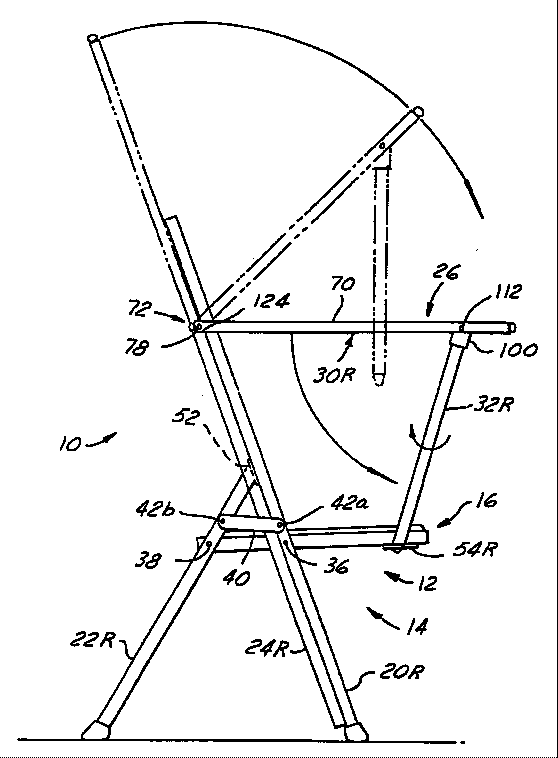 Though preferably foldable, the Folding Chair with Self-Storable Tray can also be rigidly constructed.
In its foldable form, its versatility is obvious. It can serve as that instantly-needed chair / TV tray combination, or as that easily-stored and assembled utility desk at meetings conventions, etc., and it can even be modified into a child's portable high chair, or just used any time that an extra chair is needed.
The inventor is looking for a manufacturer interested in a licensing agreement, or to purchase it outright.
Inventor: Tom Catrinar, 7000 East 10 Mile Road; Apt. 610, Center Line, MI 48015
Phone: (810) 754-7903

since November 27, 2000
---
Back to the MarketLaunchers.com home page