Smokum ™ Flame Simulating Vehicle Light Lens Add-On:

Description: Smokum TM Vehicle Light Lens Add-On is a flame-simulating light lens cover attachment that actually simulates a live flame being thrown from the rear tail lights of a vehicle. Made of a semi-flexible transparent plastic with flexible flame tips to eliminate any possible hazard, this invention has been receiving attention unlike any other available in its class.
How does it work? The Smokum TM Light Lens is designed to pick up light from a vehicle's existing tail lamp lens applied too, creating a flame illusion (mainly at night) when a vehicle's tail lights are illuminated. It has no moving parts, no self-contained lighting or wiring, and it doesn't interfere with a vehicle's lamp lens visibility, illumination or reflectors during day or night.
The Smokum TM Lens Add-On gives the impression of speed and power to any motor vehicle and is an added touch to a vehicle or motorcycle with a flamed paint job. It is, and can be made available in several different shapes and sizes to accommodate most applications. Not only can the Smokum TM Lens Add-On be used in automotive, but in commercial use as well.
The highest expected cost of start-up would be the cost of the mold and tooling preparation. Most molds already exist in the automotive aftermarket industry that produce light lenses similar to the Smokum TM Lens Add-On. These existing molds should require very little modification to produce this invention in the shapes required to accommodate most vehicles and motorcycles in the market today.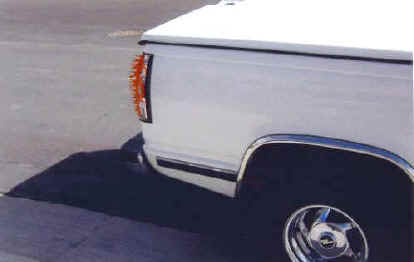 Based on a survey of motor enthusiasts involved in hot rods, muscle cars and customized cars (including motorcycles), they expect to pay $9.99 -- $14.99 for a motorcycle add-on, and $19.99 -- $29.99 for a car or truck add-on. Some enthusiasts have even mentioned they would pay $49.99 for their car or truck, and are requesting them.
Test results from the prototypes shown here have been very reliable and have increased a notice of attraction to vehicle lights, mainly during the night, according to motorists. These results have increased awareness of a vehicle's light illumination while bringing attention to signaling and braking.
Be sure to check out the inventors' other products at:
www.marketlaunchers.com/batiste.html and at www.bv-concepts.com
Inventor is seeking a licensee.
Brochures are available upon request. Thanks!
Inventor: Rene C. Batiste / Batiste Visual Concepts, P.O. Box 750601, Las Vegas, NV 89136-0601
Phone: (702) 396-7385; CELL: (702) 682-5992
E-mail: [email protected] or [email protected]
since May 4, 2003
---
See more great inventions like this one
OR
List your invention on this site's invention database