Hygenix ™ Men's Anti-Splashback Asymmetrical Urinal: U.S. Patent # 5,027,448
Wall-mounted version of the Anti-Splashback Urinal: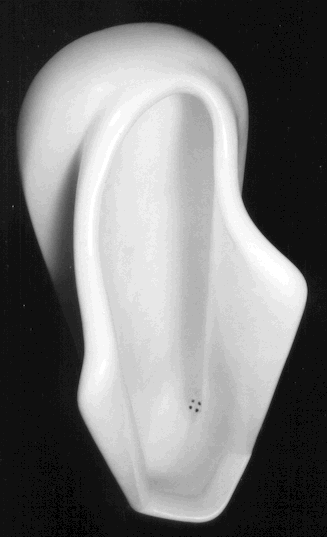 Full-height version of the Anti-Splashback Urinal -- two separate views:

Anti-Splashback Urinal:
Most men, when they use a urinal, splash all over themselves. Why has the basic design of men's urinals NOT changed in the past 100 years, until now?
The asymmetrical design of the Anti-Splashback Urinal eliminates splashback, reduces the spread of germs and is very pleasing to the eye. It can accommodate a large variety of decors. Lucrative markets include:
Public restrooms
Executive offices
Homes
The Anti-Splashback Urinal has a pair of vertically-oriented sidewalls which are connected along the rear edges to form a V-shaped wall. The surface area slopes downward toward the apex of the V-shaped configuration. The bottom wall has a drain opening at the bottom.
In a professional market study conducted recently on the Anti-Splashback Urinal, revealed the following results:
95% said that it is practical and useful
85% said that it solves a problem or meets a need
85% said that it should be priced at the same price or higher than traditional urinals.
79% said that they would likely use the Anti-Splashback Urinal if it was available.
Radio City Music Hall (New York City) has expressed interest in purchasing some Anti-Splashback Urinals as soon as they are on the market.
Both the wall-mounted urinal and the full-height urinal are available for license. For information on acquiring this product, or to hear a taped endorsement by Dr. Dean Edell, please contact:
Inventor: Bruce Wilkins, P.O. Box 1732, Lakeville, CT 06039
Phone: (860) 672-1144
E-mail: [email protected]

since March 11, 2002
---
Back to the MarketLaunchers.com home page
Order your own invention web page for only $1 down, and get your invention seen by manufacturers ...