Bucket Pal ™ Bucket Attachment: U.S. Patent # 6,135,467
The Bucket Pal™ with optional castors: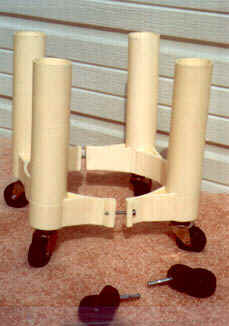 The Bucket Pal™ revolutionizes the way you use and re-use your leftover 5-gallon bucket! The Bucket Pal™ holds, stores, carries, organizes, displays and transports your pole-handled tools and fishing rods & reels, while keeping them upright and ready to go!
| | |
| --- | --- |
| The BucketPal™ stabilizes a bucket from tipping when used without wheels. When used with wheels, it can help prevent lifting injuries: | The BucketPal™ will accept most sizes of rods & reels or pole-handled tools: |
THE BUCKET PAL™ IS A GREAT IMPROVEMENT TO THE COMMON BUCKET!

Four Bucket Pal's™ in action: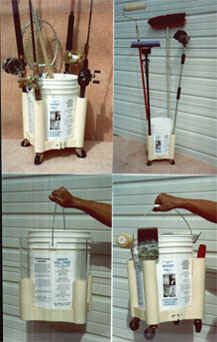 The BucketPal's™ low cost and versatility directs it toward multi-million dollar target markets such as:
Recreational and institutional users
Maintenance workers and painters
Gardeners
Housekeepers
Fishermen
Handymen and tradesmen
Seniors and the physically challenged, and more! This attachment simply improves the utility of 5 gallon buckets that are being used everywhere!
The public is already using the common 5-gallon bucket every day, so no expensive education or conversion of the consumer is needed in order to mass market BucketPal™. A single photo shows how it can be used to organize, store, display and carry tools with materials in the bucket! It satisfies everyone's inclination to use and re-use the bucket as the cheapest, convenient, carrier-container ever!
Only this multiple-market, versatile, inexpensive, attachment allows one hand to carry, organize, stabilize, display, roll and store tools around an existing bucket while still being used to carry liquid or solid materials!
Other bucket organizers of fabric or leather exist and have successful sales year after year. They have helped to popularize the concept of using, accessorizing and reusing 5-gallon buckets. Fabric and leather, however, have their limitations. BucketPal™ pushes the evolution of bucket accessories five steps further, turning a 5-gallon bucket into a tool carrier, stabilizer, displayer and organizer, with optional wheels. It will even work with and complement the fabric/leather bucket accessories. This patented, multi-niche product is unique in its utility and versatility, with or without wheels. Repeat sales, low cost, an attractive price point, simple but functional improvements over other successful 5-gallon bucket accessories, and compact design/nesting ability, are other sales advantages.
BucketPal™ is a new solution to the following problems with that old bucket you just can't throw away:
1. Solves how to carry multiple tools and materials in only one hand!
2. Solves how to prevent employees, housekeepers, back injury patients, seniors and the disabled from injury by using the optional casters. Don't lift it -- roll it with the BucketPal™!
3. Solves how to prevent spillage of paint and accidental tipping of your bucket by making the base more stable and resistant to tipping! (pickup truck and boat owners)
4. Solves how to organize and store multiple tools (rods/reels, brooms, mops, rakes, etc.) at the ready, still accessible!
5. Solves how to store pole-handled tools, even if no wall space for racks are available!
6 Solves how to display pole type items in a retail setting, freestanding, portable (wheeled option), accessible, and inexpensively!
7. Solves how to differentiate one's product in a competitive market by adding value to commodities sold in 5 gallon buckets. Attention: Paint sellers!
8. Solves how to expand and complement manufacturers' existing lines by adding different sizes, numbers, and related accessories!
9. Solves how to recycle millions and millions of buckets, helping the environment, litter control and conservation of our natural resources and energy!
10. You're sure to find your own new solutions and uses for the BucketPal™.
Contact INFO-AID for licensing or private labeling information. Brochure available upon request, and dealer inquiries are welcome.
The inventor is looking for a licensee
Inventor: INFO-AID, Attention: Phillip Tagariello, 1251 Chalcedony St., San Diego, CA 92109
Phone/fax: (858) 483-5981, extension 2.
E-mail: bucketpa@san.rr.com
since April 9, 2001
---
Back to the MarketLaunchers.com home page