"Slide and Glide TM" Photo Holder: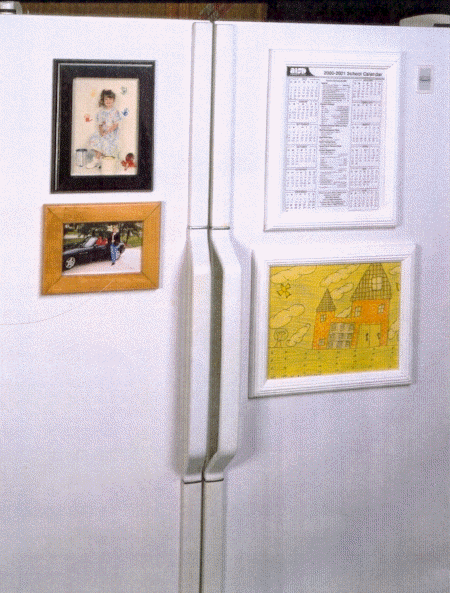 Slide N' Glide TM Photo Holder:
If you're like most people, you probably use your refrigerator as a centerpiece for hanging "must see" papers or photographs. The look of hanging them by a single magnet is NOT APPEALING. Even worse, the results of a weak magnet and the act of opening and closing your door gives you that "oh no, not again" feeling because they continually fall or slip out of position. Now there's a better way to organize your refrigerator and remove your fear of refrigerator or file cabinet ugliness at last!
WHAT IS SLIDE N' GLIDE TM ?
PRODUCT DESCRIPTION:
The Slide N' Glide TM Photo Holder makes it easy to display and protect pictures and other articles in plain view. It is a picture frame with a unique sliding leg incorporated within the frame's body that reveals a pocketed base used as a resting-place for your item. Now it couldn't be any easier to display and protect articles in plain view.
HOW DOES SLIDE N' GLIDE TM WORK?
All you do is slide the loose leg away from the frame's body, place the article between the pocketed layers and glide the leg back into position. Just think of it, no more removing backs of frames to replace it's content and no more punctured fingers or searching for tools to lift framing points off the back base boards. At last! A frame that stops clutter and organizes your refrigerator with magnetic appeal. This is the type of frame you don't want to be without.
DESIGN FEATURES:
Loose leg reveals a unique slide design for inserting photos
Holds photos in place without slipping
Clear flexible panel
Strong Magnetic strip
Deep ridges
Hangs horizontally or vertically
ADVANTAGES AND BENEFITS:
Convenient and saves time.
Papers won't slip because they're protected within the frame's body.
Clear panel protects its contents, is washable, and you can write on it with an erasable marker.
This frame stays in place without slipping.
Its deep ridges accommodate mat boards for framing your photo.
It also holds up to 12 pages of a calendar at a time. Just slip pages out as months go by.
Doesn't limit itself to hanging its contents in one direction.
WHO BENEFITS FROM SLIDE N' GLIDE TM ?
Adults of all ages with a need for organization have shown intense interest in this product.
SIZES:
The intended size for these frames are 8 ½" x 11", holding plain paper articles such as School menus, Sport schedules, child's art work, Calendars and Certificates that are displayed in plain view. Other sizes are 5" x 7", holding photos, invitations, Birthday cards, and announcements as well as 4" x 6," holding photos, postcards, and notes. People have requested smaller and larger sizes with this design be added to line as well.
MADE FROM:
These frames have currently been made from wood as a low cost research tool. They can easily be injection molded as a low-cost manufacturing alternative.
PRODUCTION COST:
The production cost of the 8 ½" x 11" have been quoted from wood in bulk quantities at $3.25 for the 8 ½" x 11". The price goes down from there for the smaller sizes such as 5" x 7" and 4" x 6".
DISTRIBUTION CHANNELS:
Retailers of Picture Frames
Magnets Trade Shows
Mail Order Catalogs
Internet Markets
Premium Incentive Markets
Promotional Markets
WHAT CAN SLIDE N' GLIDE TM BE SOLD FOR?
Substantially more than plain picture frames. Our research has told us that customers happily pay more for the convenience of being able to easily and quickly change the frame's content.
HOW SHOULD SLIDE N' GLIDE TM BE DISPLAYED?
Prominently! Slide N' Glide TM is a great innovation. Consumers need only to be introduced to it and they will want no other. Point-of-purchase signs should point out that Slide N' Glide TM is no ordinary magnetic picture frame and the many advantages it provides as a time saving tool, making any refrigerator neater and more attractive.
WHAT'S IN IT FOR YOU?
Profit. Customers will choose to buy this frame from you in order to get Slide N' Glide TM once they have been introduced to it. A low profit item can be turned into a profitable one. Slide N' Glide TM lifts picture frames out of the commodity category. Slide N' Glide TM will have brand name appeal. It is patent pending protected. You will hold exclusive rights to produce and profit from Slide N' Glide TM.
FOR LICENSING INFORMATION PLEASE CONTACT: Cindy Mayfield, Owner of Liwwa Product Development, at [email protected]
NoT yOUr OrDINaRY refrigerator magnet!

since January 8, 2001
---
Back to the MarketLaunchers.com home page