"Pet Run" Method of Securing Your Dog:
Pet Run is quite possibly the most humane way to secure your pet: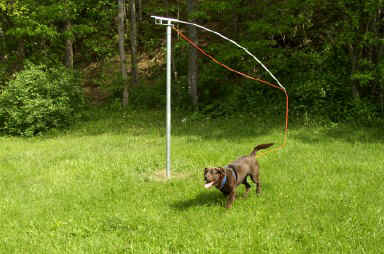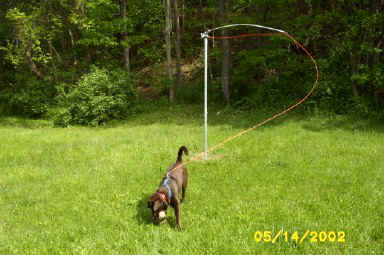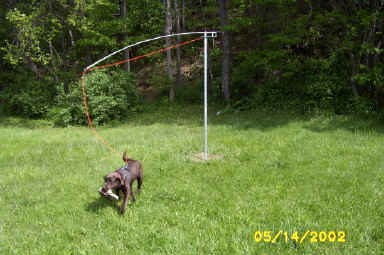 FEATURES:
Provides your dog with the ultimate freedom of movement within a 40-ft. diameter -- that's 1,256 sq. ft.
The wire rope leash is tangle-free, durable and safe for your dog.
Portable: Pet Run can be relocated to other parts of the yard, by adding more than one concrete base for the pole. This allows you to avoid having your dog wear out the yard on any one area.
Allows you keep the pet litter limited to a small area of the yard.
Pet Run is made of high-quality, heat-treated aluminum, delivering strength, durability and a weather-proof system that will last for years.
Economical: Pet Run sells for a fraction of the cost of fencing.

Pet Run:
Here's a list of alternatives that are currently on the market -- and the problem with each one:
| | |
| --- | --- |
| Alternative: | Problem(s) associated with it: |
| | |
| --- | --- |
| Invisible fence: | Very expensive and not as reliable as Pet Run |
| Traditional fence: | Expensive, and much dog waste to clean up |
| Kennel: | Too confining for your dog |
| Anchor and chain: | It can be pulled out by some dogs, is uncomfortable for your dog, and the chain can kill the grass as it gets dragged along the yard. |
Pet Run is quite possibly the most humane way to secure your pet.
Dear Mr. Manley:
We wish to congratulate you on the development of the innovative and humane pet containment system called Pet Run. It is the humane solution to a dilemma many pet owners have been searching for over decades. Many owners of dogs, and especially larger breed dogs, have just chained their dogs to trees and fences, resulting in not only miserable dogs but, rather quickly, an unsightly yard.
The Pet Run is affordable, humane ... and keeps the dogs secure with all the freedom of movement that even a smaller yard can offer.
Many a chained dog is anxiously awaiting for it to arrive in his / her backyard!
Sincerely Yours,
Eleanor Dvorchak
President & Founder
S.N.A.P. (Spay Neuter Assistance for Pets)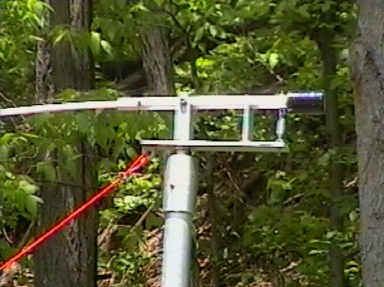 Pet Run is currently being sold at retail locations. Be sure to visit the inventor's main web site: www.petruninternational.com
Inventor: Keith Manley, P.O. Box 1384, Muscatine, IA 52761
Phone: (866) 400-0831 toll-free; FAX: (563) 264-0840
E-mail: info@petruninternational.com

since August 30, 2004
---
Back to the MarketLaunchers.com home page