Remote Control on a Leash: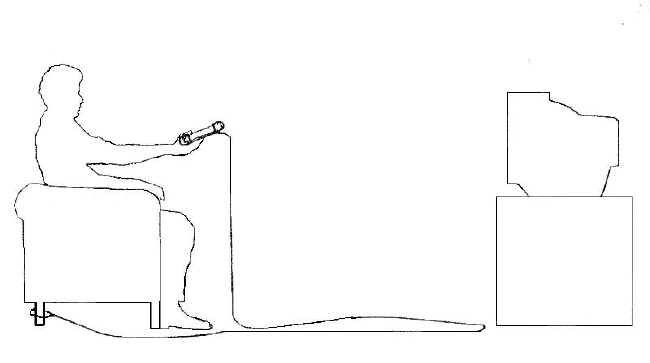 Features of the Remote Control on a Leash:
The Remote Control on a Leash restricts the location of a remote control to the vicinity of the appliance which it controls.
It is a well-established problem that remote controls, particularly those that control television sets, become misplaced or temporarily lost because the users carry them into other rooms and leave them. Also, in public places, the original whereabouts of the remote control are not at first known.
The Remote Control on a Leash's main objective is to find the remote control. Another feature of the Remote Control on a Leash is the provision of an assembly, which is usable with remote controls of varying sizes, and is inexpensive and unobtrusive.
The Remote Control on a Leash adjusts to fit nearly all remote controls, as it uses hook-and-loop material to allow for a multitude of adjustments. Basically the device is designed to allow resizing for various remotes and allows use of the infrared transmission to operate the equipment. As shown in the diagram above, the Remote Control on a Leash has a tether that can be connected to an immovable object such as a chair or couch. It also has a loop formed at the end of the tether which allows the tether to be slipped under and around the leg of a large piece of furniture, meaning that the remote can not be moved away from the tether point any farther than the length of the tether. Also if the remote slips under couch or chair cushions or under the furniture, you can follow the tether to the location of the remote control. This also prevents the remote control from falling off the arm of a piece of furniture into a waste receptacle unnoticed.
Inventor: Cathy Green, 209 Hatteras Lane, Simpsonville SC 29680
Phone: (864) 228-4776
sassycatm26@charter.net

since August 1, 2001
---
Back to the MarketLaunchers.com home page