Hospital Bed with Built-in Bed Pan: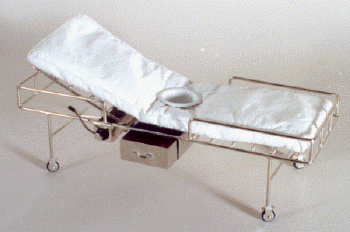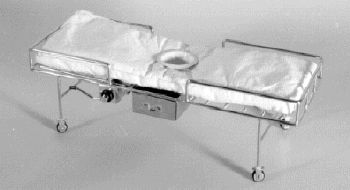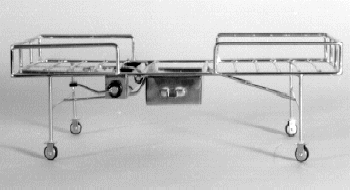 INTRODUCING FOR LICENSE:
The Hospital Bed with Built-in Bed Pan is a unique hospital bed designed to improve patient comfort, as well as making it easier for care providers. It has a built-in removable bedpan. It provides bed-ridden patients with a better method and means for handling bowel movements and urine. It not only provides improved convenience for the patient but also ends the need for care providers having to lift or otherwise move the patient. It saves time, effort and possible injury to the patient, nurse or care provider. It is ideal for use in hospitals and nursing homes and perfect for in-home care.
A special problem and concern for caring for bed-ridden patients is the use of the common bedpan. It requires work, effort and lifting of the patient, which is time consuming and may cause injuries to the patient or care provider. This problem pointed out a need that led the inventor, Rosie Dotson, to the development of a bed with a built-in bedpan. It greatly simplifies the handling of personal waste through the use of a simple bed pan that is located in the exact area where the patient can relieve him or herself without requiring the lifting or maneuvering of the patient. It makes life for the care provider and the patient much easier and less embarrassing.
The Hospital Bed with Built-in Bed Pan is a bed and bed pan combination that can be made in sizes and styles to fit any need or special application. The design used by the inventor is simple and uncomplicated. This simplicity of design will enable the unit to be easily mass-produced at a very affordable price. It is a superior patient care product that has been awarded a United States Patent and is now ready for immediate introduction to a vast and waiting market.
SALES POTENTIAL:
It is an improved patient bed that fills a real need for both the patient and care providers. Once introduced, acceptance by the medical community is expected to be immediate. It may even receive endorsement from the insurance industry. The Hospital Bed with Built-in Bed Pan can be marketed through existing outlets in the hospital and nursing home products industry. It may also be sold in many medical catalogues. It is a better method of patient care that opens up a new and highly profitable product line with unlimited national and international marketing opportunities.
COMMENTARY:
THIS IS AN INVENTION IN WHICH THE INVENTOR HAS USED SIMPLICITY AND CAREFUL PLANNING IN ITS BASIC DESIGN. Because of this, the design is practical and consideration has been given to manufacturing technique. The Hospital Bed with Built-in Bed Pan is a product that offers some unique possibilities and one that is worthy of serious consideration from manufacturers in this industry.
The inventor has indicated a willingness to negotiate the financial arrangements.
The inventor is looking for a manufacturer or a licensee
Inventor: Rosie Dotson
E-mail at [email protected] or [email protected] or [email protected]
Phone: (901) 942-3673
---
Back to the MarketLaunchers.com home page
Order your own invention web page for only $1 down, and get your invention seen by manufacturers ...