Ladder Station: (Patented in the U.S., with Europe and Canada patents applied for)
"Lean Up, Lock In, Be Safe"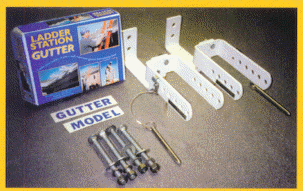 The Ladder Station is a permanent location that locks a ladder in place to the building and stops the gutter from being bent.

Markets for the Ladder Station:
U.S., state and local governments
Factories
Homeowners
General Contractors
Roofing Contractors
Home Builders
Fire Departments
Cable Companies
Power Plants
The company name is Ladder Station, LLC. The Ladder Station product is a planned, permanent location to lock an extension ladder to a building or structure. The ladder falls in behind spring-loaded flaps and locks the ladder in place. A ground release rope permits flap to be pulled back and the ladder is released. Snug pin offers a secondary locking system for this model. Other models without flaps use snug pins only. We also include a safety eyebolt (rated 5,200 pounds) to hook your safe belt. Ladder Station can be mounted to most any building, pole, tank and many other structures. The Ladder Station's first sale was to a utility company, more than $43,000. For information, call Ladder Station, LLC at (502) 833-9253.
Be sure to visit the inventor's main web site: www.ladderstation.com
Inventor: Larry Cothern, P.O. Box 237, Boston, Kentucky 40107
Phone: (502) 833-9253; FAX: (502) 833-9223
E-mail: [email protected]
(Partner wanted: $200,000.00 for 49% of Ladder Station, or $300,000.00 for 51%. Willing to listen to offer. Buy out for $1,000,000.00)

since February 22, 2002
---
Back to the MarketLaunchers.com home page