Rust-resistant, black, heavy-duty tube frame.
Sturdy canvas bases to hold water jug and dish pan.
Nylon mesh pouch for soap, cleaning supplies, etc.
Stores neatly in nylon bag: 5" x 7" x 35" (included).
1-piece, quick set-up.
Lightweight and durable (weighs less than 10 lbs. ).
Short of taking a shower, the Just Right Water Station handles all of your water needs.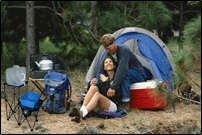 The Water Station allows you to wash the dishes
at your campsite, quickly and efficiently. Leaving
more time for campfires, walks on the beach, family
and fun, fun fun!
The Water Station puts water at your fingertips,
regardless of your location.

You can order the Water Station at the inventor's main web site.