Patent-pending Furniture Saver available for license:
BACKGROUND AND PROBLEM ADDRESSED:
In use, heavy furniture such as sofas and upholstered chairs can slide on floors or creep on carpet. This slipping can allow the furniture pieces to scrape and damage the walls, wallpaper and paint. Repeated contact of the upholstery with the walls can also dirty or damage costly upholstery fabrics. The Furniture Saver protects furniture and prevents this damage by providing a guard for the legs of the furniture pieces that extends to the baseboard as it prevents the furniture body from making contact with the wall.
The Furniture Saver is a cost-efficient form of furniture protection, and it is adjustable to fit different room and furniture applications as well as all different shapes of furniture legs. Because the base of the furniture leg fits into a notch designed for this purpose, there is no need to also attach Furniture Saver to the furniture, so no damage would be done to fine antiques or new furnishings. The wall plate component, however, can be attached to the wall or baseboard material to prevent movement of the furniture over time.
Homeowners as well as renters benefit from the use of the Furniture Saver as it prevents wallpaper damage and damage to painted walls or paneling. Such damage could cause the forfeit of any damage deposit paid by renters or require re-decorating by home owners.
Possible changes made to this new housewares invention could include the following:
The side of the Furniture Saver could be made from a transparent acrylic.
The curved leg support could be equipped with a rubber bumper, in order to protect the legs of expensive furniture.
Different color schemes can be created.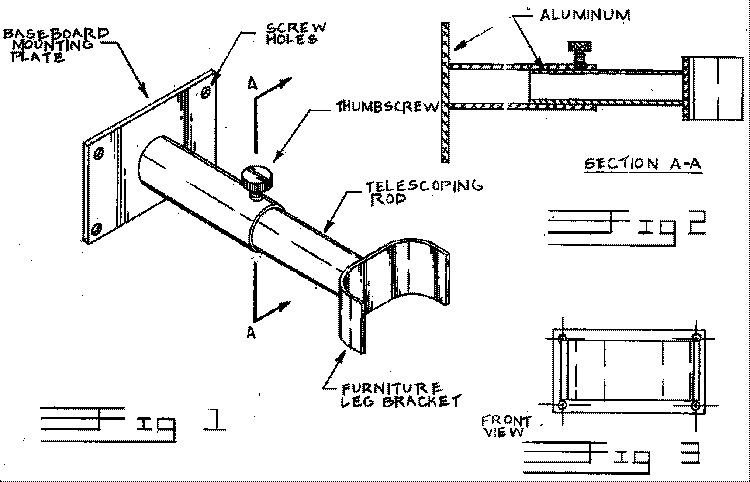 Inventor: Thomas Barber at [email protected] or contact Market Launchers at (217) 224-8194 for the phone number of the inventor.
since October 30, 2000
---
See more great inventions like this one
OR
List your invention on this site's invention database