X-Pel Clear Paint & Clear Headlight Protection Kits:

Protect your investment! X-Pel CLEAR Paint & Headlight Protection Kits protect the frontally-exposed surfaces of your paint and lights from damage caused by rocks, bugs and other road debris.

These year-, make- and model-specific kits are pre-cut for an exact fit.

INVISIBLE PAINT PROTECTION:

The X-Pel Paint Protection Kits are manufactured from a rugged, 3M urethane film that protects against the elements while allowing each vehicle's brilliant color to show through -- without disrupting or distorting the original manufacturer's contours and design. It makes bras and bug screens obsolete and provides durable paint protection for passenger cars, trucks, vans & SUV's.
INVISIBLE HEADLIGHT PROTECTION:

An evolution has taken place. Automobile manufacturers have now incorporated headlight design into the overall styling of today's vehicles. The result ... headlights have become non-standardized and very expensive to replace, especially when labor costs are factored into the equation. Reflex Enterprises has developed an invisible, energy-absorbent cover which prevents road debris from breaking, cracking and pitting the lights on today's automobiles. The X-Pel Headlight Protection Kits are made from a clear, strong, flexible, energy-absorbing PVC plastic and is attached with an industrial grade 3M adhesive. These kits attach directly to the lens surfaces, are clear, will not yellow and are easy to install. No special care or maintenance is required. Coverage for all headlights, signal lights and fog lights is included in each kit.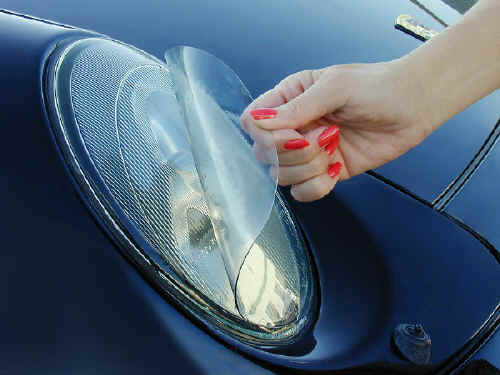 Both products are removable and will not damage the paint nor the lens surfaces. All kits are computer-designed and precision-cut for a perfect fit. Each kit is backed by a $1,000 Guarantee which provides our customers with complete peace of mind that their investment is safely protected for the unseen perils of the open road.

X-PEL LICENSING PROGRAM (NOT a Franchise):

BE YOUR OWN MANUFACTURER! The Reflex Enterprises Design Access Program is the perfect way for individuals and companies to cash in on the latest trend in the vehicular paint protection market. Our custom-designed software program allows access to our massive library of kit designs, which provides a "virtual product inventory." Armed with this program, one can spontaneously manufacture paint protection kits at a designated facility, 24-7 on an as-needed basis. More information on this incredible program can be viewed at:

www.xpel.com/license.html Although the two products compliment each other very well, the headlight kits are available through wholesale distribution form Reflex, but the manufacturing process is not a part of the Reflex Enterprises Design Access Program.

Reflex Enterprises is an Authorized 3M Distributor.

X-Pel products are available for a wide variety of vehicles. For a complete listing of products and their applications, visit our web site at: www.xpel.com

Inventor: Reflex Enterprises, 10414 Gulfdale, San Antonio, TX 78216
Toll-Free Phone: (800) 447-9928; International: (210) 342-7114

since August 1, 1999