Can Hugger TM: U.S. Patent # 5,833,285
ATTENTION pull-top lid can users: Can Hugger lifts the ring and holds the can while you open it. It's a safer way to open pull-top lid cans: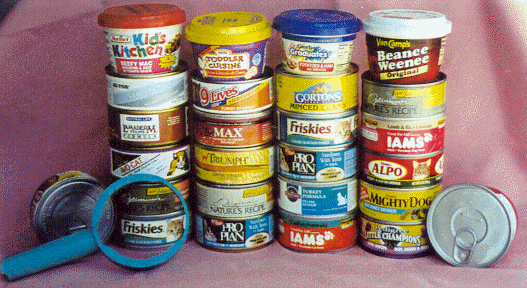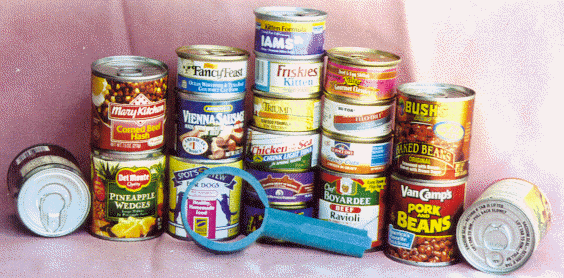 Directions for Use:
1. Use handle and push ring under tab.
2. Push in, prying up ring tab.
3. Place Can Hugger over can, with ring tab toward handle.
4. Hold Can Hugger by handle; pull lid open using ring tab.

The Can Hugger helps GRIP hard-to-hold cans and LIFTS the tab for you.
THE RESULTS:
NO broken fingernails or injured fingers.
NO spoon or knife needed.
For use with pull-top lid cans, i.e. pet food, baby food, snacks, soup, etc. The Can Hugger holds the can, keeping hands and fingers out of harm's way. It eliminates cuts and nicks that sometimes occur during the removal of a razor-sharp lid by holding the can, not your hand. HELPS LIFT BEVERAGE CAN TABS, ALSO.
The Can Hugger accommodates containers of any shape. It is designed for plastic injection molding, with no secondary or assembly operations required, other than packaging. Material content, depending on design, is 2 - 3 ounces. Together, the two sizes of Can Huggers accept more than 92% of the pull-top lids on the market. Has ideal consumer appeal; and also makes an excellent promotional item. For licensing only.
Inventor: Bill Venezia, 1622 Valencia Drive West, Largo, FL 33778
Phone: (727) 585-0519
E-mail: [email protected]
since October 1, 2000