Color Matching I.D.:
Actual size: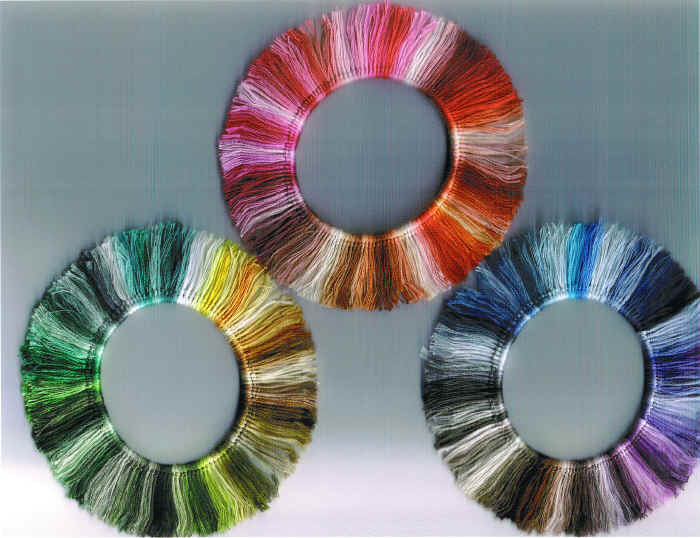 The COLOR MATCHING I.D. consists of a set of three flexible rings, approximately 5 inches in diameter. Each ring has more than 150 threads of graduating shades of color attached securely to the ring.
Most people try to buy an article of what they already have. For example, you want to buy new new pillows to match the sofa, a tie to go with a shirt, and so on. When trying to match or coordinate particular colors, you either take the article to the store with you (if you don't lose it first) or find an inseam that you can cut out and then take that piece of material to the store to find that matching item.
Compare the COLOR MATCHING I.D. to the the article you have, and you will be able to easily and quickly find the coordinating color. The COLOR MATCHING I.D. also eliminates the need to make exchanges due to buying the wrong color.
Professional designers of fashion or home decor use a large binder which contains numerous fabric color swatches, which is very expensive and not practical for the average person to use. The COLOR MATCHING I.D. is an affordable way to meet your color matching needs. It's easy to carry with you while you shop due to its small size, and you can slide it on your wrists for hands-free shopping.
Inventor: Brenda Surber
Phone: (830) 896-6157
E-mail: [email protected]