Tape Tacks ™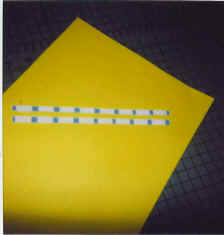 Features of Tape Tacks ™ :
Made from a special double-backed tape.
Tape Tacks ™ are very easy to apply and remove, and they won't damage wallpaper or other surfaces.
Can hold greeting cards, pictures, menus, notes, etc. They're also good for larger window and wall decorations (use two for larger items).
You can stick one on the end of a rod and use it to pick things up off of the floor -- or off of the ceiling. There are many other uses for Tape Tacks ™ !
Each package of 50 Tape Tacks ™ contains 6 strips with 8 tacks on each strip for only $1.50.
Other uses for Tape Tacks ™ include:
Hang greeting cards, notes, children's pictures, menus and holiday decorations.
Put one on the end of a dowel rod for picking up things from the floor and any hard-to-reach places.
Keeps kleenex boxes from rising up whenever you grab a kleenex out of the box. Also works for Q-tip boxes.
These vinyl strips can be used to hold a notepad on your refrigerator door; just pull out the strip over the cardboard backing and use scotch tape to hold the ends down.
NOTE: Using a small knife allows you to easily lift up the corner of a Tape Tack ™ for easy removal from the vinyl strip.
Tape Tacks ™ are available for individual sale at only $1.50 for one package of 50, or $1.25 per package when you order 5 or more packages (this includes S & H). To order, please contact the inventor at:
Inventor: Albert Sponzilli, Jr., 29 W 460 Wynn Avenue, West Chicago, IL 60185
Phone: (630) 293-7487