Motion TV Wireless Handheld Remote Device available for license: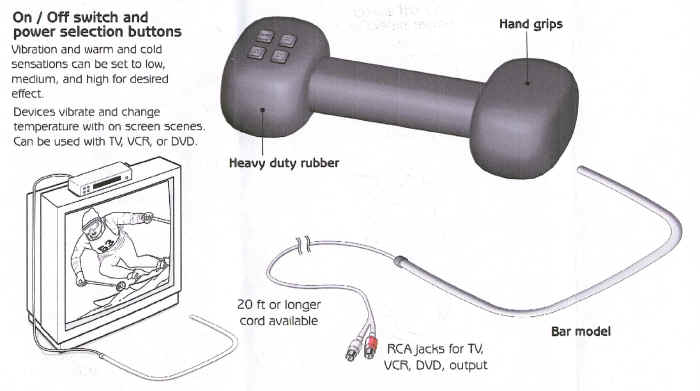 MOTION TV: Redefining the meaning of "interactive" as used in electronic media
First there was "in stereo," then "surround sound" and now it's Motion TV:
The Motion TV wireless handheld remote device is a combination of a video cassette player, recorder and interactive bar that comes with an optional wireless remote. It allows you to "feel" the motion that occurs on TV or film (DVD and VHS). It brings more "reality" and EXCITEMENT to your viewing experiences by letting you feel the rumbling, the impact, the movement and even a mild temperature change. In short, it brings much more of an effect to viewers than surround sound could ever hope to do.
It also provides color and physical motion that reflects the actions shown on television in order to create a genuine sense of involvement among viewers, thus redefining the meaning of "interactive," as used in electronic media.
The Motion TV is to be used with a TV set to display DVD's, videocassettes and CD's, and to create simulated colors and motions to give viewers a greater sense of realism. It consists of 2 pieces, as you can see in the above illustration: A handheld dumbbell-shaped bar, and a bar to place around your waist while reclining. The Motion TV was originally designed for bed-ridden children, until the inventor realized that a much larger market exists for it.
Target Markets:

Households
Hospitals and Convalescent facilities (it is ideal for people who cannot move much)
Can be licensed to TV manufacturers
Can be licensed to DVD manufacturers
Gift givers
International

Retail Outlets include:

Department stores
Home centers
Discount / Variety stores
Mail order and catalogs
Home shopping channels
The inventor is looking for a manufacturer or a licensee
Inventor: Nina B.
Phone: (570) 575-6280
E-mail: [email protected]