"Handi-Holder" Combination Food Holder: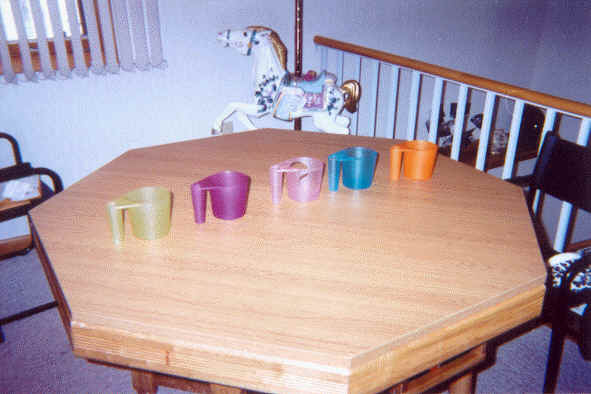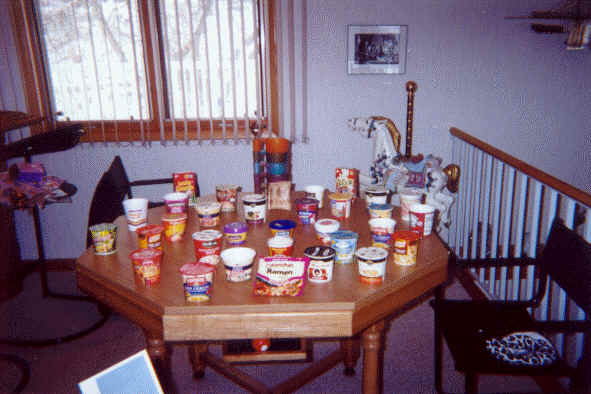 For those who love to eat on the go
if your digits get frigid
while devouring rocky road,
if you start to cringe as your fingers get singed
(by that hot cup of noodles),
there's a versatile product
you should get to know...
It's got a great handle that's a spoon holder too,
has multiple uses and comes in bright hues.
Fill with food or container and take it away,
to the couch, or computer,
where you work or you play.
There's no end to its features so let me explain,
why this product is one you will want to obtain.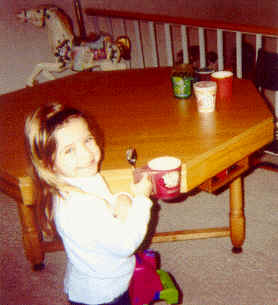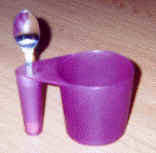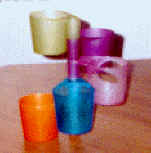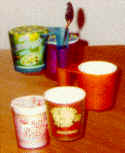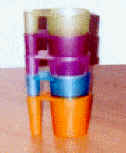 Features:
Microwaveable
Dishwasher and freezer safe
Non toxic (food safe)
Insulated (helps keep food cold or hot)
Has a spoon holder
Both the cup and spoon holder are stackable
Great for featuring promos and logo
Attractive, popular colors
Multi-functional
Non-breakable
No more burning, cold, or sticky hands
No more sticky fingers or soiled furniture
The Market: Who Will Use It?
This product is perfect for any age group, from toddlers to great grandparents. It's easy for kids to hold onto, unlike bowl-shaped objects.
People with arthritis or joint problems will appreciate its design. Children will be thrilled with the colors and the place for their spoon, which by the way, could even be used to hold a toothbrush for the bathroom.
Busy mothers whose hands are already full feeding their little ones will find it easier to handle the food as well as the babies.
This Product is so Multipurpose:
You can use it for almost anything: ice cream, soups, prepared foods, cereal, oatmeal, baby food, croutons, gravy, olives, parmesan cheese, peanuts, popcorn, cookies, crackers, etc.
Open a can of soup, pour it in and heat it up. Use it as a carton cozy for hot or cold foods, instead of having to use a bowl.
Pop a screwdriver in the handle and fill the cup with screws, nuts, or washers. Got any spare change? Need a place to store your paper chips and pencils?
You Can't Begin to Imagine All the Possibilities
How about simply using it for your coffee, tea, or even hot cocoa? You can keep a handy spoon in the holder while you lavishly enjoy your marshmallows and whipped cream.
It Goes Everywhere Without a Problem:
To the beach, to camp, school work, picnics, sporting events, and, of course, right in front of the television in your own living room.
No more spoons falling on your furniture or the floor. There's a handle to carry them now. No more stains from containers.
It's extremely efficient. With an optional snap-on tupperware type cover, transporting food becomes trouble free.
You won't believe how many full ones you can carry at once with the stackable spoon holder feature.
This is undoubtedly the most universal multipurpose, affordable and fun gadget you will ever buy. Never before has something that costs so little been used for so many different purposes.
It's a natural for incentives and logos, a great giveaway for sports teams, companies, anyone.
It's so safe to carry. Even a small child can manage it easily.
Too hot to handle? Too cold to hold? Banish those words from your vocabulary. Embrace personal pleasures that make you spoon and swoon.
Take it anywhere.
Use it for almost anything.
Marvel at all the items it can hold.
Imagine all the options that you have.
Just look at all the possibilities!
The inventor is looking for a manufacturer or a licensee
Inventor: Robert Moore, Jr., 101 Birch Street, Liverpool, NY 13088
Phone: (315) 461-9955
E-mail: [email protected]