Simulated Brick Chimney Block: U.S. Patent # 5,937,601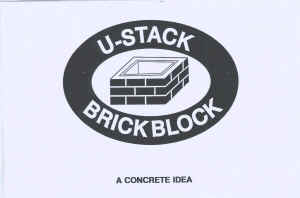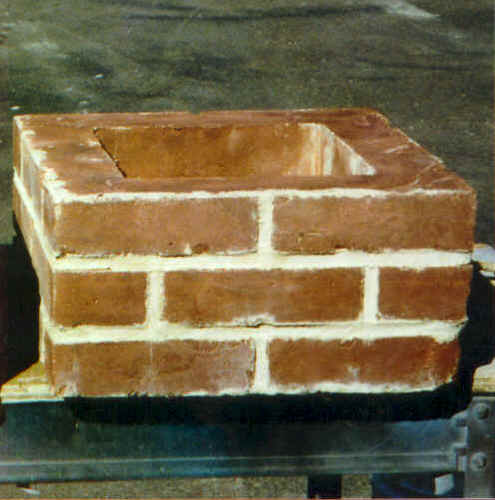 Block cast in concrete in shape of square with hollow center.


Simulated Brick Lamp Post -- When cast in plastic, the product is ideal near roads or driveways where there is risk of collision with a vehicle.
Primary Features:
Product looks identical to one made of brick
Is less expensive than identical product made of brick
When product is cast in plastic, minimal damage done to vehicles in case of collision.
Product Description:
Simulated Brick Chimney Blocks are constructed of pre-cast chimney blocks, containing decorative surfaces that have the appearance of a simulated brick or stone pattern. The material for the chimney blocks is poured into a mold containing cavities and projections which form the decorative pattern that is projected onto the surfaces of the formed chimney block. The chimney blocks are stackable so that chimneys of any height can be constructed. Multiple chimney blocks are stacked upon one another and secured together using mortar or other material capable of holding the blocks firmly in place.
The Simulated Brick Chimney Block is a block cast in either concrete or plastic in any desired shape or size, is hollow in the center, with an exterior surface patterned to simulate brick, stone or stucco. By stacking and joining multiple blocks with mortar or glue, they are assembled into such items as chimneys, fence or lamp posts, mailboxes or outdoor grills, as the pictures illustrate.
The product is an economical, yet esthetically pleasing, alternative to the traditional brick masonry used for the items listed above. No special skills are required for assembly of the product into such items and, when cast in concrete, the product is a less expensive material than brick.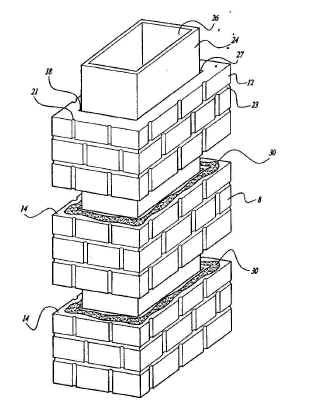 Inventor: Robert McDonald, c/o Rosalind Reiser, Esq., Gressley, Kaplin & Parker, 324 Washington St., Monroe, MI 48161
Phone: (734) 384-1021
E-mail: [email protected]

since December 1, 1999
Back to MarketLaunchers.com