Family Recreational Game System: U.S. Patent # 5,799,938
The backyard game system is a complete playground equipment station for kids and adults.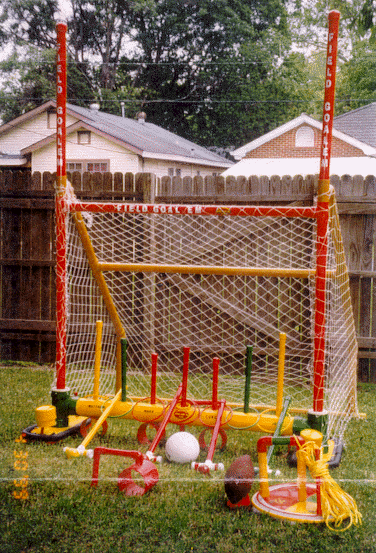 As this picture illustrates, the Family Recreational Game System game system can be used for the following yard games: Volleyball, Ring Toss, Tetherball, Basketball, Soccer and Tee Ball, as well as a Field Goal kicking set-up.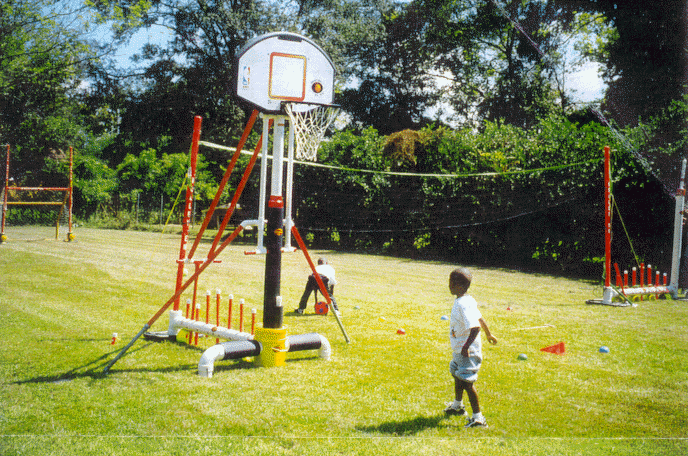 The game is constructed on a round plastic pipe. This shaft is approximately 4 inches in diameter and 5 feet long. The shaft is connected at each end with tees that mount to a base which can be stake-driven into the ground if needed. Attached to the game is a shaft and round swivels that turn in either direction.
The various games in the Family Recreational Game System can be played several different ways. They can be played by using both shafts parallel to each other and 8 feet apart, which gives players access to 8 swivel holes, or they can be played by using 1 game shaft to play 4 swivel holes. There are ring stacks which mount on the game shaft connecting the round swivels as described above. These ring stacks allow players to play ring toss games. At the end of each shaft is a tee which allows you to mount vertical poles. When the poles are mounted, a net can be installed to play such games as Volleyball and Badminton. The tees also allow you to mount other games designed for the Family Recreational Game System.
FEATURES:
12 GAMES TO ADD ON TO GAME SHAFT
ALL AGES FROM 3 TO 80 CAN PLAY
AS MANY AS 20 PEOPLE CAN PLAY AT ONE TIME
FUN RECREATION FOR THE WHOLE FAMILY
CAN BE USED AS OUTDOOR RENTAL GAMES FOR RECREATIONAL PURPOSES LIKE THE SPACE WALK

MANY BROAD BUSINESS OPPORTUNITIES:
SALES OF ORIGINAL GAME, CALLED "SWIVEL BANG 'EM PLUS" FAMILY RECREATIONAL GAME SYSTEM
RECREATIONAL CONTEST GAMES FOR REWARDS
FAMILY REUNIONS
CHURCH OUTINGS
NURSERIES
PARKS AND PLAYGROUNDS
PRIVATE PARTIES
FAMILY BACKYARDS
RECREATIONAL RENTAL PACKAGE KITS, SUCH AS THE SPACE WALK
CAN ADD ON OTHER GAMES AS TIME AND MONEY ALLOW, LIKE THE "CYPRESS T SWING SET"
DO-IT-YOURSELF COMPANIES CAN BENEFIT FROM THE SALE OF MATERIALS AND COMPONENTS

"I would like to recommend the Family Recreational Game System as a must for any special occasion. Everyone can enjoy its variety of games like basketball and ring toss and original games. All of the games are fun and challenging. Everyone from age 3 to age 50 can enjoy it ...."
Sarne Hutcherson
Baton Rouge, LA


The Family Recreational Game System is the answer to inactive kids and parents. Being able to play outside increases our health, strength, and endurance. The games are fun and easy to assemble, and almost indestructible. Perfect for children's parties, backyard fun, and group play time. I heartily endorse this game. "
Debra
Baton Rouge, LA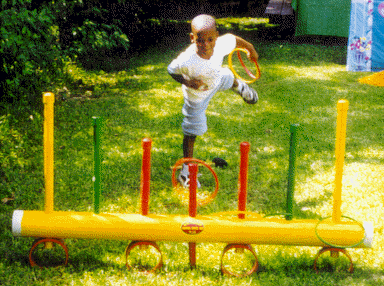 The backyard game system is a complete playground equipment station for kids and adults. If you need further detailed information, folios are available upon request. We would like an opportunity to discuss our product and the advantages for your company to buy this product for manufacturing and distribution. Thank you.
Inventor: Ronald Lewis, 226 Ship Drive; Apt. 1, Baton Rouge, LA 70806
Phone: (225) 927-9375
E-mail: [email protected]