Beach Body Brush (TM):
Click on the picture to see a larger version: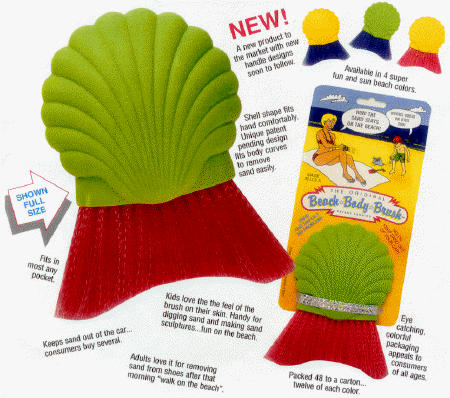 The Beach Body Brush allows a person to easily remove sand when at the beach, rather than tracking it into the car or hotel, condo or rental unit. The Beach Body Brush is popular with children because they like the feel of the bristles on their skin. Seniors enjoy the convenience of being able to remove sand from their feet or shoes after that morning walk on the beach.
FEATURES:
Eye-catching colorful packaging appeals to consumers of all ages
Shell design fits hand comfortably
Unique design fits body curves to remove sand easily
Fits in nearly any pocket
Packed 48 to a carton, twelve of each color.
The Beach Body Brush is in full production and looking either for a company to license the rights to it, or for additional distributors for retail sales. Sales have been significant so far, and many consumers purchase multiple units (one for the car, one for the hotel, one to take with you to the beach, etc.).
Inventor: Gerald Lacy, 321 West 4th Street, Edwardsville, IL 62025
Phone: (618) 656-4358
E-mail: [email protected]