Windshield Clearing and De-Icing System: U.S. Patent # 6,260,608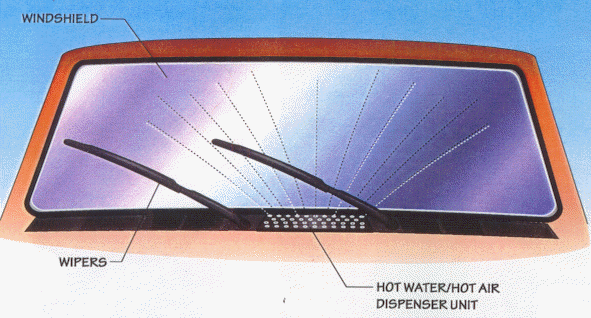 The Windshield Clearing and De-Icing System automotive accessory removes snow and ice accumulations without scraping; could help motorists to see clearly in colder conditions; saves time, effort and aggravation often spent clearing debris by hand and eliminates the need to pull over repeatedly.
Benefits:
Melts ice and snow quickly
Provides an obstruction-free view
Eliminates the need to constantly reach out the window or get out of the car to clean the wipers
Enables the driver to see the road ahead clearly at all times
Improves safety for motorists, as it helps to prevent accidents
Designed to suit any type of vehicle -- one size fits all.
Features:
The Windshield Clearing and De-Icing System is comprised of a water heater, water pump, hot-air pump, tubing and a dispenser.

Water heater would be located within the engine compartment; heated water would be pumped from the reservoir through the tubing and out the dispenser at the coil. A separate pump would deliver hot air in a similar manner.
Potential Markets:
Vehicle owners (mass market)
Companies with vehicle fleets, such as delivery companies, cab companies,
Public transportation providers
School districts for their buses
Trucking firms / owner operators.
Outlets:
Car and truck OEM's
Wholesalers, retailers and distributors of automotive parts
Tire, battery and accessories outlets
Service outlets
Vehicle dealers
Department stores and variety stores
World Wide Web
Catalogs and automotive trade publications.
The inventor is looking for investors and / or potential licensees who want to acquire and manufacture the Windshield Clearing and De-Icing System; it is not yet being manufactured.
Inventor: Donald Ray Kim, 18573 Colima Road; Apt. B, Rowland Heights, CA 91748
Phone: (626) 831-2414
E-mail: [email protected]