The Drill Paddle™ portable water paddle is available for sale or license (patent pending)
The inventor sums it up nicely when he says, "Don't be a up a creek without a Drill Paddle."
The Drill Paddle by IDEA'Z is a lightweight 1.5 pound portable water paddle powered by an ordinary cordless drill. It easily attaches to the front of your drill just like a normal drill bit by simply tightening the drill chuck around the drive shaft. It can power a small boat, canoe, or raft to get to your favorite fishing spot. It can also be used as an emergency breakdown paddle on a regular sized boat. The Drill Paddle is more convenient and versatile then a trolling motor because there is no heavy 12-volt battery to haul around.
PLUS, THE DRILL PADDLE IS JUST PLAIN FUN!
The Drill Paddle comes with an unsinkable cover in a variety of colors. With the Drill Paddle, you are able to move forward and backwards by using the settings on your drill. The battery on your drill lasts approximately 10 to 30 minutes depending on size and weight of the boat (lithium-ion batteries may last longer), and will move the boat one to five knots, depending on boat size. The inventor has been manufacturing and selling Drill Paddles himself, and is now looking to sell or license the rights to a manufacturer.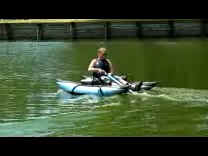 The Drill Paddle sells for $49.95. To order, please click on the PayPal link or send a check to the address listed below. Thanks.
Contact:
IDEA'Z
Gene Keough, President
P.O. Box 7814
Klamath Falls, OR 97602