Easy Ride Skateboard: U.S. Patent # 6,158,752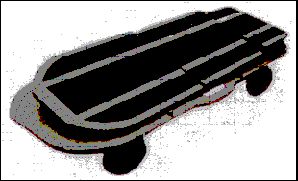 Easy Ride Skateboard:
The Easy Ride Skateboard has front and back independent adjustable steering and easy-to-use brakes, which makes it the most unique skateboard in the world. The board is fitted with a top board that is divided into three sections. The rider can turn the front wheels by shifting their weight to the left or to the right, which will cause the wheels to turn in the same directions. Using the middle board in the same fashion independently turns the back wheels. Stepping on the third board applies the brakes. The board can be made any length or width, and use a verity of size wheels. These innovations allow the rider to challenge any hill no matter how steep or sharp the turns, and do it safely. Its easy balance and smooth, quiet ride make it akin to snowboarding but, unlike snow boarding, Easy Ride can go on pavement, grass, and off-road conditions.
Easy Ride can be equipped optionally with remote control brakes that eliminate a runaway board.
Inventor is looking for a company to license the Easy Ride Skateboard.
Inventor: Albert Kay, P.O. Box 362, Burney, CA 96013. Phone: (530) 335-4510
[email protected]

since January 15, 2001