Ball Slide™ Ball Mount for trucks
Ball Bank™ Ball Mount for trucks
Ball Mount Video Demonstration
(You MUST have a current version of Windows Media Player to listen to this program. Get your Windows Media Player here.)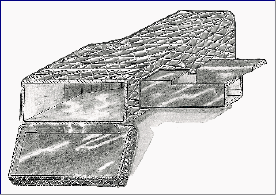 Now Available for License...

Reliable and Secure Solution for Ball Mount Storage.

Now Available for License...

The Problem:

Currently ball mounts are stored in a locked position in the hitch, undesirable for longer trucks trying to fit into small places, like the garage. They are also noticeably in the way and tripped over regularly. The alternative is to remove the ball mount when it is not in use and store it at home or in the vehicle somewhere. Neither are convenient. It seems when it is stored at home you always need it when you are out….and when it is stored in the vehicle, it slides around as a constant reminder that it has no home at all! At present there is NOTHING on the market to solve this problem.

The Solution:

The Ball Bank™ and Ball Slide™ are patent pending and simple alternatives! A unique point of these two devices are that they mount utilizing the open end of the receiver hitch with an anchoring system. This allows for easy installation and security. There is no need to modify, drill or weld anything to mount these storage units for constant use with your ball mount.

The Ball Bank™ and Ball Slide™ provide a safe, convenient, and easy to install anti theft storage device for any size ball mount on any make or model truck using a receiver hitch.

Ball Mount Storage Units Features & Benefits:

2 Patents Pending.
Security storage
2 Unique designs to chose from.
No necessary drilling, welding or modifications made to the vehicle. The unique "wedge locking device" secures the Storage Units safely to the open end of the hitch.
Convenient access for easy use, never wonder where the ball mount is again.
Estimated COG starting at $15 depending on features.
Given the choice, wouldn't everyone with a ball mount and hitch choose to add one of these great looking products to their vehicle?
See back for contact information.
Now Available for License ...
For More Information:
Gilbert and Becky DeAnda
9715 E. Deer Trail
Tucson, Arizona 85748
800-721-8310
Simply pull out slide, unlock and lift arm and remove ball mount.
| | |
| --- | --- |
| | Conveniently slides back to hide under truck when not in use. |
* The Pressure Wedge inserts into the end of any hitch!
Prepared by:
Invention University
2220 N. Camino Principal, Suite C
Tucson, AZ 85715
Phone: 520-722-9545
Fax: 520-722-2840
E-mail: lisa@inventionuniversity.com
since March 24, 2003