"Clip-on-ument" Flower Holder for Gravesites: U.S. Patent # 5,435,099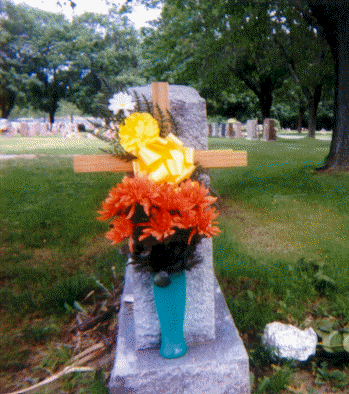 "Clip-on-ument" Flower Holder for Gravesites:
Leaving flowers at a grave site is a loving gesture to remember those who have passed away. Frequently, though, groundskeepers discard the plants or flowers (even artificial flowers) just a few days after they are left at the cemetery. The Clip-on-ument container holds the flowers off the ground and out of the way of the lawn mowers and other grounds keeping equipment.
Economical and easy to use, it attaches quickly to the monument and offers an attractive way to display flowers and plants. The Clip-on-ument can be placed anywhere from the base up along the vertical surface, as shown.
Target Market:
Anyone who has lost a parent, spouse, brother, sister, child or close friend.
Advantages:
Economical.
Easy to use.
Can be mounted in a matter of seconds, in a number of different positions.
Appeals to general consuming public.
Keeps floral arrangements off the ground, extending their use since they are not subject to discard by groundskeeper while attached to monument.
"Non-Seasonal." Will have strong and steady sales year round with additional sales on holidays such as Memorial Day, Father's Day and Mother's Day, as well as birthdays of loved ones.
Multiple unit sales (pairs); minimal production costs.
Can be produced from metal, plastic, wood or combination.
Adjustable to fit a wide variety if different-sized stones.
Inventor: Eugene Conway, 46 Waldo Rd., Arlington, MA 02474-5518
Phone: (781) 643-2363
E-mail: [email protected]
Back to MarketLaunchers.com