Tu BOLT ô Fastener is the alternative to the traditional nut, bolt and washer combination: U.S. Patent # 6,537,006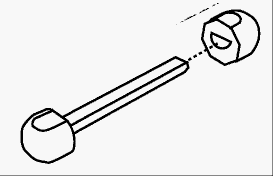 Tu BOLT ô Fastener:
The "T" represents the bolt and the small "u" represents the cap. The most important features are that the Tu BOLT is:
Tu BOLTS can be made out of either plastic, water-treated nylon or wood.
Quick and easy to install -- quick and easy to remove
Requires no strength to assemble
Saves time and money
Eliminates the need for wrenches
Provides strength and durability
Will not rust
Different diameters come in different colors. If youíre looking for a 1/2" cap and bolt, just look for the black ones. It doesn't get much easier than that.
Much lighter than steel bolts, and has a clean, smooth, finished look.
When you have a bolt in a location where itís hard to get to with a wrench, a Tu BOLT allows you to get to it with ease.

| | |
| --- | --- |
| The usual way, with nuts and bots: | The Tu BOLT way: |
The Tu BOLT is capable of replacing the traditional nut, bolt and lock washer combination, according to one bolt manufacturer. The diameter of the bolts is the same as traditional bolts; however, each size comes in different colors.
The cap or nut is closed at one end to form a cavity. A quick set adhesive could be applied either to the bolt or in the cavity. Or the adhesive could be stored in the cavity, and held there by a break-away membrane. When the cap is placed over the bolt, the membrane will break and allow the cap to bond to the bolt in seconds.
The Tu BOLT Fastener works in the following applications: Accessories, appliances, awning & canopies, barbecues, bicycles, boats, buildings, buses, cabinets, campers, fences, garage doors, golf carts, exercise equipment, furniture, lawn equipment, motorcycles, RV's, trailers, wood decks, and more.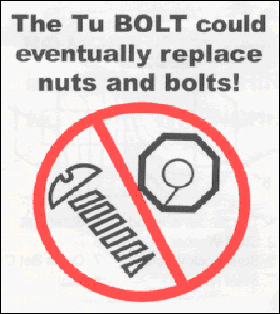 The Tu BOLT Fastener is the alternative to the traditional nut, bolt and washer combination. The inventor is looking for a company to license the Tu BOLT, and requests that you contact him directly for any additional information.
Inventor: Bob Clark, Tu BOLT, LLC, 4846 State Road 674, # 306, Sun City Center, FL 33573
Phone: (813) 634-7704
FAX: (813) 642-9115
E-mail: [email protected]